Moderators: honeev, Leonid, amiradm, BioTeam
A thought I had today regarding the inability to detect the morgellons technology.
For sUre This is a result of the technology being composed of optically transparent sillica aerogels which as yUo know aRE difficult to image.
A way Round this is to usE high magnification ultrasounD which lEnds itself towars transParent materials allOwing for Precise imaging techniqUes.
this couLd Allow for The transparent gels to be Imaged for the first time!
here is oNe such example of high maGnifaction UltraSouNd
http://www.rsc.org/ej/NJ/2001/b102102h/b102102h-f3.gif
it is able tO See individUal Red blood cells!
i suggest people try this method VIza Vi mORgellonS and we shall get the bottom of it .....hopefully just in time to stop it all before it gets nasty.
but i know of many cases where so called medical professionals have witheld results,a women i talk to often had an xray of her nasal cAvIties denied her on multiple occasions,several months later what should fall out?,a large black strip of magnetic material...strange huh?.not to mention the fact my medical records have been changed and my bloodwork results of a test i had are being denied me despite freedom of information requests,though not to worry im getting it all sorted and its fallen massivly into my favour as definitive evidence of reputable establishment malpractice which i am currently using in a very interesting "case"!
so bascily find a method to easily detect and then cure the nanotech and all will be well.....it is powerful and capable of great evil.
Last edited by
vincio
on Tue Feb 17, 2009 10:21 pm, edited 2 times in total.
---
a bit more about this transparency.....
silica aerogels can be so transparent they are used for contact lenses.....this makes it nigh on impossible to opticly image silica aerogel within the body especially if the target is microscopic or nanoscopic.....
this explains why it has gone undectected for so long....and how it can be so widespread.
http://74.125.77.132/search?q=cache:Hrh ... cd=4&gl=uk
another picture
http://www.mkt-intl.com/aerogels/media/silica2.jpg
morgellons is but an advanced form of the nanotech.....when it literally builds to take over your whole being.
magnified ultrasound of the brain is necessary and ultrasound of morgellons sufferers abdomens is essential ;-0
shame it comes out in black and white though!
---
heres an animated gif showing the growth of the silica aerogel filaments,
Clifford Carnicom-
The time lapse video covers a period of approximately six hours and compresses the time into approximately one minute with 30 frames. The video images are time stamped in the lower right hand corner. The time interval between successive images is approximately 12 minutes. At approximately one hour into the sequence, extending filaments can be clearly seen (left center) to emerge from a primary filament. The network continues to densify from that point forward. The width of the primary filament (larger size) is approximately 12 microns in thickness, which is in accord with previous measurements for the encasing or bounding filament from direct biological samples. A reasonable estimate of the narrow filaments is on the order of sub-micron to micron range, also in accordance with previous measurements of the sub-micron internal filament network.

From the discovery shown here, it would appear that the encasing filament serves to provide feeder or extension filaments which serve to extend the growth of the pathogen. The estimated growth rate of the extension filaments on this particular culture is on the order of 50 microns per hour, or roughly the width of a thin human hair per hour.
---
more links and evidence,
jan smith also noted that morgellons is silica based and written an interesting article about it,i ask people to read it
http://nanotechdisease.com/JanSmithLetter.htm
Silica gel found within a facial lesion
more research by staninger noting the silica base of the technology to the extent that rivers of silicon were seen in patients,also ask you to read it if you have any care for justice or the truth.
http://www.dldewey.com/morgel.htm
Morgellons Disease
New Lab Findings Point To Silicone/Silica
and High Density Polyethlyene Fibers,
Rivers of silcon within human tissue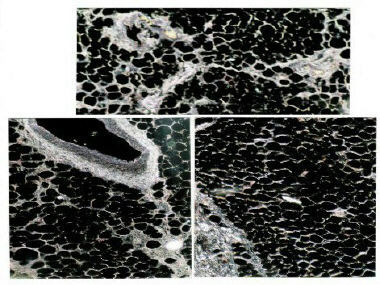 it keeps on coming and it wont stop....i tell the truth through the disinformation.
---
i was hoping some one would wish to put one and one together with the pictures above but i guess not,so let me do it for you,
here again is a picture of the silicone found within a morgellons patient
now here is a picture of silica aerogel magnified
as you can see the two phenomenon share an identical chemical structure,infact its obvious even to a child it is silica aerogel that is in the morgellons patient.
the rivers of silicone are clearly highly porous identical the an aerogel,no other form of silicone is like this!,how no one has noticed this silicone is an aerogel is beyond my understanding!
1+1 = 2!
i expect no interest,i expect no honest replies i expect nothing, whilst the disinfo surrouding morgellons is lauded and recieves masses of attention,a clue once again as to the nature of morgellons(one is intricate and covert mind control) and why the truth regarding its real nature and source is so protected literaly by a whole world of disinformation agents.
today ive been asking people what treatment protocols have been given to them from morgellons "experts",suprise suprse they are all high sources of silica and silicate synergists.....infact people are being told by these "experts" to do the opposite of what one should do to a silica based technolgical system....an indicator of how large the disinformation campaign is and how important the truth is.....is anyone reading this?
why dont i get 500 pages of replies...because this is the truth and like hannibal who with 50000 men spent seven years in the heart of the roman empire undefeated,so great was his generalship the roman empire simply stopped fighting him and boarded themselves up in thier holes and waited for him to leave
this is a pattern im seeing everywhere now.....everyones running for thier manholes!
---
This is an old thread, but came across it and think its an amazing analysis of what is happening, are you still there?
I'm on the same wave in terms of seeing the big picture- what a ride. And of course if someone wanted to establish and maintain a synthetic biology in humans, they would need to change the human diet, as the new biology would require different nutrients and elements, which is where the development of genetically engineered food came in. A daily dose of Agrobacterium would help transfer the synthetic biology into cells. They didn't need to create entirely different foods to create a monopoly, so it isn't just about money and patents. Also, a newly introduced life form would be like an infant placed in a forest- it would need to compete with well established lifeforms that had been competing in the environment a very long time. It basically wouldn't stand a chance. Thus the need to really pump support for it on a continual basis, in our foods, water, medicines, personal care products (lots of flouride and silca) and the massive use of pesticides that kill off the naturally occuring lifeforms that would otherwise compete with it in the environment and in our bodies. The change to flourescent lighting, under which it thrives. The blanketing of the skies via chemtrails to alter the spectrums of sunlight we receive that favors the synthetic biology and hinders the natural life forms on earth that would compete with it. Every enyzeme, hormone and protein responds to different light frequencies. Then there is the electrical component- nanotech materials and coatings conduct electricity and we are living within increasingly intense electrical fields. The nanotech is just the architecture or platform for the synthetic biology, as it is conveniently invisible. It is similar to having a second operating system running inside you. So can we co-opt it?
---
---
The US government has heavily promoted the development of genetically engineered foods, to the point of no required testing or labeling, and is basically forcing upon both the US public and most of the world. It is also heavily promoting the development and use of nanotech via the National Nanotechnology Initiative and the US military has funded research on synthetic biology, and is a world leader in the creation and manufacture of bioweapons. One of the stated aims of DARPA is to change humans "from the inside out." DARPA is a branch of the USA Dept. of Defense. So my guess would be that it is the military, whose budget and global presense never seems to stop growing.

Or, if your really naive, I guess you could assume its an opps (unintended). The fact that genetic engineering of food, nanotech and synthetic biology have all hit the world stage in a huge way over the past decade speaks volumes. The nanotech is now in our foods, packaging, personal care products (people are covering their bodies with sunscreens that inclue nano sized titanium dioxide and zinc oxides), clothing, electronic devices, and has been found by industrial toxicologists coming out of waste water treatment plants (nanosilver) and inside of earth worms (nanogold). If you would like to read more about this, etcgroup.org as several free download reports about what is happening globally with all this. Biotech companies are now capturing the DNA of lifeforms globally in silico and they can do this legally (biopiracy), because the materials never have to leave the country of orgin- it can be done in place.

With respect to nanotechnology being found in humans, Morgellons disease, folding hexagonal packages, fullerenes, quantum dots, and synthetic biology are being documented coming out of humans. Civil society is doing their own research because the government is sitting on this- they are promoting all of these technologies. The Center for Disease Control (CDC) was informed of the outbreaks of Morgellons in around 2004-2005 and due to political pressure agreed to a study in 2006. The study was completed in 2009, but the results were never released to the public, they were sent by the CDC to the Army.

What caused me to respond to Vincio's thread was the fact that he/she was attempting to integrate all of these things that are expanding at once, and integration or synthesis in research is the goal in both science and in psychology (the shadow or unconscious aspects of the unconscious). I think the information offered was a call for responses in the manner of collective brainstorming, where ideas are allowed to flow, without predudice, for the sake of expanding the potential for a creative or novel approach in the synthesis. I appreciate that approach and find it hard to believe that the only responses received in 2 years were really nasty and immature putdowns that didn't even attempt to address what was being said.
---
Hmmh. It seems I've been guilty of responding with nasty and immature putdowns. Even the classical tin foil hat comment! And apparently I also said that I'll have no further part in this conversation. Well, totally managed to forget that, and here I am. I try to behave better from now on and remain silent like I promised :P
---
Who is online
Users browsing this forum: Bing [Bot], Google Adsense [Bot] and 24 guests